Ayurveda, yoga och massage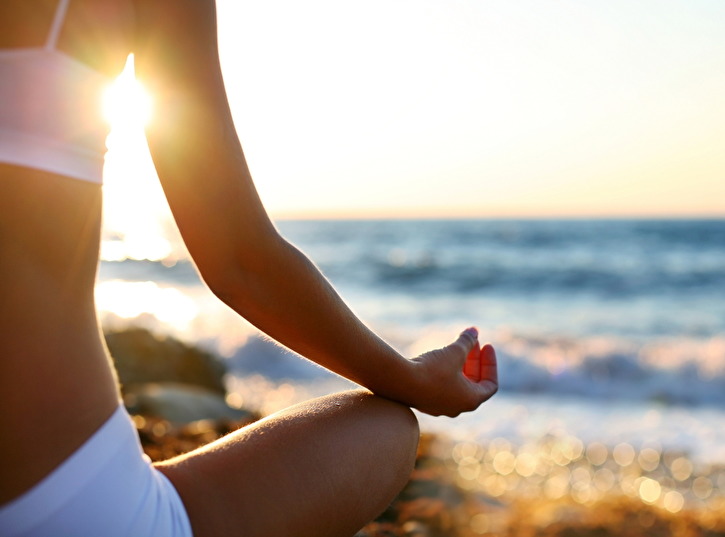 Välkommen till Namayoga i Kalmar. Vi erbjuder yoga i olika former, ayurvedisk hälsorådgivning och ayurvediska behandlingar och massage och hälsofrämjande kurser.

Vi som driver och äger Namayoga i Kalmar är Evelina och Björn. Vår önskan är att dela med oss av våra erfarenheter och kunskaper inom yoga och ayurveda, och göra människor lyckligare, friskare och starkare.

Alla kan yoga! Kom och yoga hos oss på Namayoga. Yogaklasser för alla, lugna, lite mer meditativa, harmoniska klasser eller dynamiska mer utmanande klasser för styrka, flexibilitet och balans. Morgonyogaklasser för en skön start på dagen. Våga Yoga! Boka dig på vår bokningssida.
Välkomna!
Martin fortsätter sina lunchyoga klasser på tisdagar klockan 12.00. Välkomna till en lugn, skön hathayoga stund med Martin hos oss på Namayoga. Dessa klasser ingår inte i terminskortet eller klippkortet.

Boka här!
Workshop Yoga: Softening into Self 7-8 APRIL
Jag, Lars, träffade Alexandra första gången 2014 i en öken utanför Los Angeles. Många gånger har jag tänkt att jag vill ge mina vänner och yogisarna i Kalmar möjligheten att få ta del av den fantastiska energi som Alexandra är. Nu är det dags!

*** This workshop will be in English ***

Come, center and connect in community for a journey into balance of the energies within the self. Through the magic of medicinal herbs, meditation, movement, breathwork and mantra we will explore what is asking to be expressed. This weekend is focused on connecting to the divine feminine energy of Shakti and balancing the divine masculine energy of Shiva. We will find a healthy harmony of both aspects and discover how they dance within the self and how that will allow us to show up differently in the world.

This is a two-days event, but you can join for only one of the days, or both, according to what fits with you. Further down there will be more details about the time schedule and pricing.

Day 1
Enjoy a guided tea meditation with herbs that open the feminine essence
Learn about common plants and their medicinal properties
Thread together in community by way of circle
Discover an intention for this cycle in your life (please bring a journal)
Create an alter (please bring an object- this could be a stone, feather, flower, ect.- you will take it home afterward)
Soften in gentle and yin yoga practices
Journey through a new birth by way of Breathwork
Relax into deep states of oneness in sound bath
Be guided in reflection

Day 2
Anchor in alignment with guided meditation
Drink herbs for rooting in the masculine
Practice gentle movement- root in the masculine to rise in the feminine
Journal and reflect (bring journal)
Conscious communication
Acknowledge the story of the voice
Learn a Kundalini inspired kriya for anchoring in self expression
Explore and reclaim the freedom of the Vishuda Chakra
Enjoy the profound healing of song!
Create a personalized ritual practice

Reserve your spot: Here! Be sure to book both days on our bookingssite if you want to join both days!!
When: April 7 & 8
Times: (both days) 09.00-12.00 for first session. 12.00-13.30 for lunch break. 13.30-16.30 for second session.
Lunch: You will have the possibility to order special meals for these days. They will be cooked by Céline Tissot, friend of Lars, and they will be especially made for this workshop. You can order the meal beforehand by sending a message to Lars at 0735976217 or lars.hallen@gmail.com. It will be 100 kronor for each person for each day. Or you can bring your own food.
Pricing for the workshop: 700 kronor for each day. 1200 for both if you choose to join on both.
Early Bird: before March 23, 1000 for both days

Be sure to book both days on our bookingssite if you want to join both days!!

Website of Alexandra:
www.flybutterflyfly.com

Namasté
Hathayoga med Martin den 3 april
Välkomna till hathayoga med Martin. Tisdagen den 3 april kör Martin en extrainsatt hathayoga klass klockan 18.00 på Namayoga. Boka här!
Från stillhet till rörelse
En klass där vi börjar med med stillsamma yin-positioner. Genom mindfulness och medvetna andetag skapar vi flexibilitet och utrymme i leder och bindväv. Vi fortsätter med lugna flöden som ger energi till kropp och sinne.
Vi skapar harmoni och balans mellan stillhet och rörelse. Yinyasa-klassen ger energi till kropp, sinne och hjärta samtidigt som den får dig att känna dig både stark och balanserad.
Är denna klass på kvällen börjar vi med rörelse för att landa in i yinyogans stillhet.
Boka här!
Om du vill ha vårt nyhetsbrev, fyll i din e-mail nedan!